For chess enthusiasts seeking an affordable yet high-quality chess set that won't break the bank, finding the best chess sets under $100 is a strategic move. It allows you to indulge in your passion for the game without compromising on craftsmanship or aesthetics.
Navigating the diverse array of chess sets in this price range can be a challenge, but fret not. After thorough research and evaluation, we've identified the standout option: The Handmade European Ambassador Chess Set.
This remarkable set combines elegance with functionality, featuring intricately crafted pieces and a sturdy board. With a stellar rating of 4.7 out of 5 stars and numerous satisfied customers, it's evident that this set has earned its place as a top choice among budget-conscious chess players.
While the Ambassador Chess Set is an excellent choice, there are several other captivating options available. In this guide, we'll delve into a selection of the finest chess sets under $100, ensuring that you can make an informed decision to elevate your chess-playing experience.
Best Chess Sets Under $100
1. Classic Game Collection Metal Chess Set
This metal chess set has a felt base that keeps the pieces stable on the board. You can play chess on it while on the go.
You can play chess on it while traveling because the base is strong, and no matter whatever amount of bumps your vehicle goes through, the pieces arrangement won't get disturbed because of the metal material keeping the pieces intact on the board.
The 2.5-inch king in this chess set stands out. It is accompanied by a gold/silver/brown Hardwood board, which is made from high-quality wood material.
Pieces are made of metal material and they stick to the surface of the board because of magnetic felt base, making it easier to place them on the board and play outside in windy or traveling conditions.
2. Jurassic Park Chess Set
The Jurassic Park Chess Set is a beautiful chess set. It starts at $72 on amazon, but can cost extra depending on where you are ordering it from. The pieces are of good quality and the chess board itself is of good quality too.
This chess set has great reviews and people like it for its uniqueness in pieces design.
The only complaint buyers have about this chess set is that the pieces are made of dinosaur shapes, making it difficult to remember which one is the bishop and which one is the king and so on.
They need to understand it's more of a decoration set not a board to play on. 😀
Annotations are not marked and pieces don't represent the actual characters of a chess game, which makes this chess set disqualified for the tournament play because both board and pieces are violating the FIDE rules for chess board and pieces.
3. Marvel Collector's Chess Set
The Marvel Collector's Chess Set is a piece of art for Marvel fans. It features the most iconic Marvel heroes and villains as chess pieces.
Marvel characters included in this chess set are Thanos as King, Hella as Queen, Kingpin & Red Skull as Bishops, Kill monger & Venom as Knights, Loki & Ultron as Rooks, and HYDRA as Pawns.
Again this chess set is not in accordance with FIDE rules, making it disqualified for tournament play, but you can buy it for your own fun at home, especially if you are a Marvel fan.
4. Handmade European Wooden Chess Set
This chess set is made out of European beech wood and has a handmade board. The chess pieces are hand-carved and hand-painted. It features a 16-inch brown and blackboard as well as 32 round corner squares on the board.
A great set, compact in size that can be gifted to teenagers / beginners & Intermediate players. The best thing about this chess set is the classy internal storage. Surely one of the best chess set under 100 dollars.
You can see it in the image below: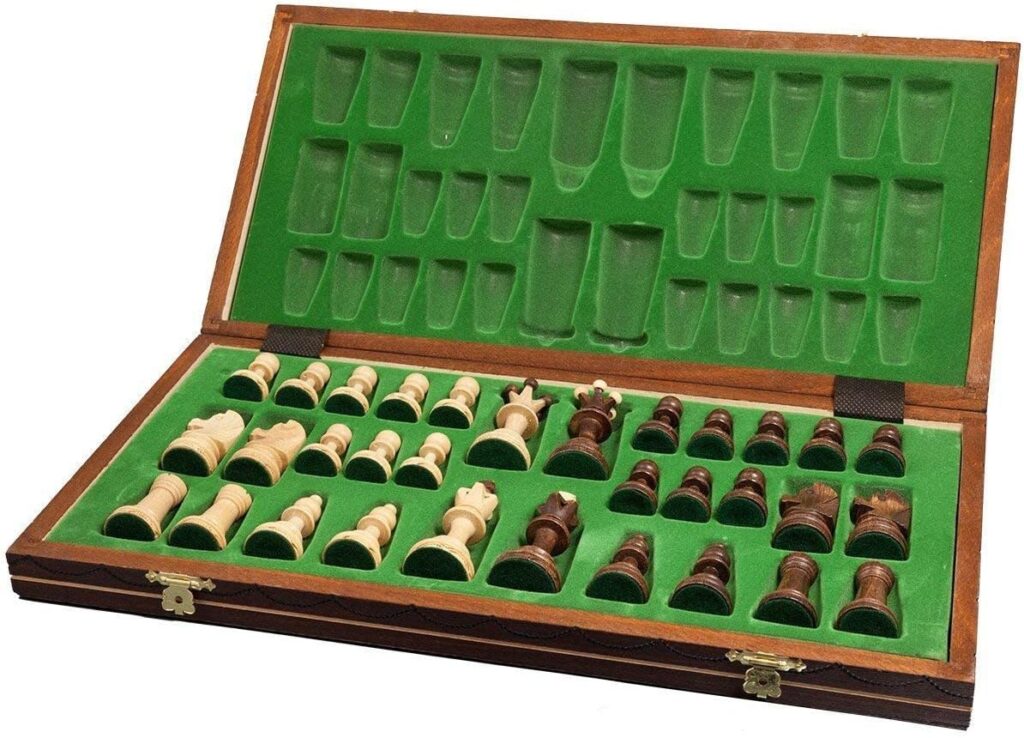 5. Handmade European Ambassador Chess Set
This chess set has a beautiful and detailed design. All the annotations are clearly marked from A-H and 1-8 for ranks and files, which makes it qualified for tournament play and teaching chess.
Pieces are exquisitely designed with attention to detail plus you can store them inside the chess board after playing the games.
This unique chess set of under $100 is famous for its Incredible details and is a great gift idea for both kids and adult chess players.
Overall it's a 4.7 stars out of 5 product. 82% of buyers gave it a perfect rating on Amazon.
6. Hathaway Prodigy Chess & Checkers Set
If you're a chess enthusiast who also enjoys playing checkers, the Hathaway Prodigy Chess & Checkers Set in a stunning walnut finish is a fantastic choice.
This versatile set allows you to indulge in two classic games without breaking the bank, as it falls comfortably under the $100 price range.
Crafted with attention to detail, this set boasts a beautifully designed chessboard that complements the rich walnut finish.
The 15-inch square board provides ample playing space for strategic maneuvers and thoughtful moves.
The chessboard's surface is smooth, ensuring a delightful tactile experience while moving the pieces.
The chess and checkers pieces included in the set are both durable and visually appealing.
The exquisite craftsmanship of each piece adds to the overall allure of the set, making it an elegant addition to your game collection or an ideal gift for chess and checkers enthusiasts alike.
One of the standout features of this set is its convenient storage compartment.
After an intense game or a casual match, you can neatly store all the pieces inside the chessboard, keeping them secure until the next round of play.
This feature is particularly handy for traveling chess players who want to take their set with them on trips or outings.
Keep in mind that while this set is excellent for casual play and friendly competitions, it doesn't come with the traditional tournament annotations for ranks and files.
However, its practicality, combined with the allure of chess and checkers, makes it a beloved choice among buyers.
With a decent rating of 3.9 out of 5 stars on Amazon and positive feedback from satisfied customers, the Hathaway Prodigy Chess & Checkers Set has earned its place as one of the best chess sets under $100.
Whether you're a seasoned player or just starting your chess journey, this set offers countless hours of strategic fun and enjoyment for the entire family.
Conclusion:
The chess sets I reviewed in this article are the best chess sets under $100, at least according to the buyer reviews.
You should definitely buy one of them if you want to play healthy board-games like chess. Your kids can benefit from it.
Bobby Fischer could be your motivation in this perspective. He was the 1st American to become a world champion in chess. Interestingly, there was no one in his family who pursued chess as a profession before him. Do you know how he developed an interest in the game? His Mom gifted him and his sister Juan a chess set bought from the candy shop when Bobby was 6.
Maybe the next world champion is living under your roof. 😀
Also Read: